Upload Date: 30-12-2019, 14:16 Working: 81,77%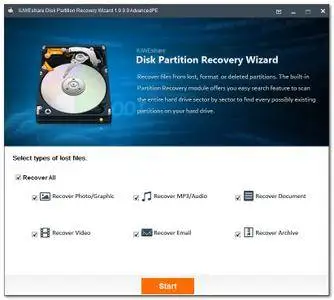 IUWEshare Disk Partition Recovery Wizard 7.9.9.9 Unlimited / AdvancedPE | 23.4 Mb
Losing a disk partition can really make your day. It can happen in lots of ways, including viruses, bad software, and operator error. IUWEshare Disk Partition Recovery Wizard can recover and restore deleted, lost, missing or damaged partitions in many cases.
It can recover partitions on most hard disks, including IDE, ATA, SATA, and SCSI drives and FAT, NTFS, and EXT formats, for both 32-bit and 64-bit Windows.
Recover Data from an Inaccessible Partition.